Things You Should Throw Away After a Fire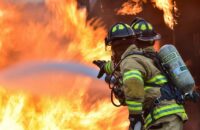 A house fire can be a devastating and challenging thing to go through, especially if the fire ends up damaging most of your precious and sentimental belongings. It is up to the homeowner to make the difficult decision of what you can salvage and what you must throw away.
A homeowner can make that decision for most of their belongings that have been subject to fire damage, but there are a few things that unfortunately have to be thrown out for their safety.
Let's take a look at seven things that should be thrown away after a house fire:
It is better to throw away burned clothes and bedding. While you can clean those clothes, soot and smoke particles may remain in the clothing and cause skin irritation when worn. Additionally, breathing in these particles can cause respiratory problems. There is also the smell of fire extinguishing chemicals to consider. The smell can settle into your clothing and is difficult to get rid of even after a few washes. It is best just to throw out most of your clothes, whether they were badly burned or not.
When it comes to medicine, there is absolutely no room for error. The heat, smoke, and soot from the fire and the chemicals and water used to extinguish the fire can all affect the potency of medicine.
Most medicines come with a warning to keep them out of direct sunlight because heat can alter how well the medicine works. If direct sunlight is bad, you can imagine how much worse fire would be. You should throw out all over-the-counter medication and prescription medicine in the house. You should also call your doctor as soon as possible for new prescriptions.
Makeup, Cosmetics, and Toiletries
Any makeup products, cosmetics, and toiletries that have been burned should be thrown out. As for those products that have not been burned, it is up to you to decide whether you want to keep them or throw them out.
Makeup and cosmetics can be quite expensive, which may deter you from getting rid of them. However, it is important to consider that the chemicals and minerals in these products may react in unknown ways to fire, heat, soot, and smoke. We suggest you throw it all out just to be safe.
After a devastating house fire and intense fire damage, the last thing you need is to get sick from eating contaminated food. All food that has been left out, such as fruits, cereals, and snacks, needs to be thrown out.
Canned and boxed foods exposed to fire, heat, smoke, and other chemicals must be thrown out. While canned and boxed food may appear safe, the heat from the fire can cause harmful bacteria to grow in the food, and the chemicals can have adverse effects. Additionally, if there is a power outage, food in the fridge and freezer could go bad and should be thrown away.
If your furniture, mattresses, and upholstery are visibly damaged and burned, they need to go. Some furniture could be salvaged, especially if it is made with metal or if it was not affected by the fire too much. Hardwood furniture can also be salvaged and cleaned after a house fire. You should be aware, though, that the smell of smoke and fire extinguishing chemicals can be tough to remove from upholstery.
Burned Carpets, Curtains, and Bedding
Your clothes are not the only thing to worry about when it comes to fabrics. Fabric burns quickly and is usually the first thing to be damaged by fire. Carpets, curtains, bedding, towels, and other linens have to be thrown away if they have been burned. If some linens are salvageable, you can deep clean them and see if they are okay to keep.
Make sure to check if all of your important documents like passports and birth certificates are okay. Books and papers that have been burned black and are indistinguishable are not worth trying to salvage and should be thrown out. If you have any important books or documents that have only been damaged a little, charred at the edges, or just exposed to soot and smoke, they can possibly be restored.
911 Restoration of San Jose
Fire and smoke damage can be overwhelming, but 911 Restoration is here to help you get through it quickly and thoroughly. Our compassionate fire restoration technicians offer a true Fresh Start. Our services cover every need imaginable, from odor and smoke removal to complete structural repairs. We can even pack up and store your undamaged belongings and clean up after firehose flooding.
We offer a free fire damage assessment and a free insurance consultation. Call us today at (408) 449-4904 for fire cleanup in San Jose, Oakland, Fremont, and all surrounding areas, or visit our website for more information on our services.