Importance of Diversification in Disaster Restoration Services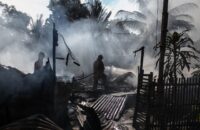 San Jose is no stranger to natural disasters. Earthquakes are the most common natural disasters in the city and surrounding region, but it has also received it fair share of floods, thunderstorm winds, etc. The likelihood of such incidents makes disaster restoration services essential to help the community rebuild and rehabilitate everyone affected.  
However, the key to successful disaster recovery lies in diversification of services. As mentioned above, San Jose is at risk of several types of natural disasters, and it isn't alone. Most cities in the US have faced at least 2-3 types of disasters in the last century and climate change has only increased the risk.
This blog post will address the significance of diversification when designing disaster restoration services and explain how it's done.
Importance of Diversification in Disaster Restoration Services
The purpose of disaster restoration service is managing all disrepair caused by a natural disaster like flood, thunderstorm, fires, etc. Several reasons make diversification a necessary component of this service.
     1. Types of Damages That Can Happen
Firstly, natural disaster damage isn't restricted to a single type. A single natural disaster can cause one or more of the following types of damage to a property:
       Water Damage
Water damage is common during floods, thunderstorms, excessive rain, etc. and is the source of multiple property problems. Rain or flood water seeps inside the house through any gaps or cracks in the walls, often collecting in basements. 
The accumulated water is dangerous because it damages your belongings and can easily become a hub for pathogens. Furthermore, water entering inside walls through cracks weakens the property structure, putting everyone inside the property at risk.
      Fire Damage
Fire damage is one of the worst property damages because of how quickly it spreads. Commonly caused by wildfires or thunder striking the house, fires require immediate attention. The problem with fire damage is multi-fold. Fire burns away all material that comes in its path, and firefighters use a combination of water and carbon dioxide to put it out. Such actions result in:
Soot Damage

Smoke Damage

Water Damage
The smoke and soot present at properties after fire damage are incredibly dangerous. Soot can enter a person's lungs when they breathe, the particles sticking to the inner membrane and damaging it. The smoke often contains toxic gases that can cause severe health issues if inhaled. 
That is why 911 Restoration of San Jose always advises people against cleaning up fire damage themselves and allow trained exerts to handle the job.
      Mold Damage
Mold Damage is a consequence of water damage and commonly found after all water-based disasters. It grows on moist surfaces and becomes an infestation if left untreated for too long.
The problem with mold growth is that there are several types, and some cause mild to serious health damage. The matter can especially escalate if someone with mold allergies or weak immune system comes into contact with the spores.
Disaster restoration services typically cover mold removal as part of the services, emphasizing the need for diversification.
      Sewage Backup
Floods carry solid trash, waste, and dirty water, some of the worst health hazards combined. This waste often enters properties, sewer canals, and similar spaces, causing them to become clogged and drastically increasing the risk on infectious diseases. 
     2. Benefits of Diverse Expertise 
Diverse expertise in disaster restoration services is important because it carries two key benefits:
      Ability to Address Several Types of Disasters
As shown above, one disaster can cause several types of damages. Putting out a fire can cause water and mold damage. Floods can result in water, mold, and sewer damage. Windstorms can sever pipes, causing water damage and increasing the chances of appliances short-circuiting.
Therefore, you'll need experts who know how to work under various conditions to ensure they are prepared for all scenarios. Diverse disaster restoration services expertise is beneficial because the disasters are diverse.
      Efficient Response 
Such expertise is perfect for increasing efficiency since technicians will come ready to respond to all circumstances. A diverse team can handle different damages without needing to waste time calling in a new team when they come across multiple problems.
The efficiency is beneficial for the client and allows them to resolve the restoration work sooner than expected.
How to Add Diversity to Disaster Restoration Services
There are three primary methods for adding diversity to disaster restoration services:
     1. Training for Multiple Damage Restorations
Firstly, team technicians need to be trained to respond to different damage restoration scenarios. They may have expertise in one or the other, but everyone should know the basics to support the experts.
911 Restoration of San Jose ensures our teams are well-prepared by investing in their training and certifications. The more they know, the better support they can provide.
     2. Creating Teams with Diverse Expertise
It is always best to put people with diverse expertise together in a team. The strategy ensures that each team will have at least a few damage experts for each damage type who can lead the restoration process.
     3. Organize Emergency Response Teams and Equipment
Finally, your emergency response teams should have all the equipment they would need to respond to a disaster. To improve their time management, the teams need to have equipment for all types of damages. It will cut the time required to collect equipment before heading towards the client.
Wrapping Up
Overall, diversification is a key component of disaster restoration services because the teams need to be prepared to tackle all situations. The 911 Restoration of San Jose teams are disaster restoration experts, so please contact us for any inquiries. You can also call us at (408) 449-4904 for emergency response.