Cleaning Services in San Jose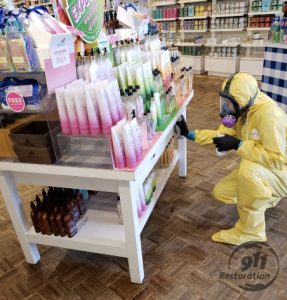 The coronavirus (COVID-19) outbreak is swiftly spreading across the U.S. and presenting new obstacles for both commercial property and homeowners. While social distancing is the new normal, it is also everyone's responsibility to take preventative personal hygiene measures in order not to contribute to new outbreaks of the virus. However, business and house owners have the added liability to maintain a clean and safe property that puts the wellbeing of family, staff, customers, and tenants first.
According to the World Health Organization (WHO), common symptoms of the virus include shortness of breath, respiratory issues such as coughing and breathing difficulties, as well as a fever. In the most severe cases, patients can suffer from pneumonia, kidney failure, and the virus may even cause fatalities. People throughout the world owe it to themselves, and to one another, to remain vigilant against the spread of COVID-19 by thoroughly washing their hands, maintaining a six-foot distance between themselves and others, and thoroughly sanitizing and disinfecting their homes and retail stores.
While the aforementioned symptoms may be a sign of a possible coronavirus infection, most people do not develop these symptoms for at least two weeks after initial exposure to CORVID-19. This makes it difficult to tell if an individual with coronavirus has entered onto your premises. In order to promote public safety, it is of the utmost importance to sanitize and disinfect your home or apartment building regularly.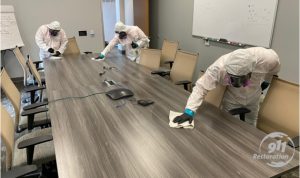 Not all heroes wear capes. During this trying time, you have the opportunity to provide peace of mind and security to your customers, family, and residents by taking precautionary measures in order to keep your facility or home pristine. These actions speak volumes and will also encourage others to take similar steps in order to keep the community safe and sound.
911 Restoration of San Jose is available around the clock to provide commercial water restoration and residential cleaning services to our neighborhood. Our licensed, bonded, and insured staff is equipped to handle everything from home sanitization and disinfection to the deep cleaning of office buildings. The seasoned technicians are also thoroughly trained to follow current CDC and EPA protocol. Moreover, as a locally owned and operated branch of 911 Restoration Franchise, Inc., we can be at your doorstep within just 45 minutes of your first phone call to us. Our sanitization technicians work 24/7/365 to ensure San Jose and the neighboring communities are kept safe during this pandemic.
Contact us today to receive your Fresh Start.