Fireproofing Tips for Homes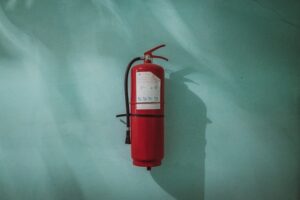 According to the National Fire Protection Association (NFPA), there were approximately 382,399 residential fires in the United States between 2014 and 2018. These resulted in over 2700 deaths and over $7.5 million in property loss. However, these numbers necessarily have to be so high. Taking the proper precautions and fireproofing your home and property can protect you and your family by preventing a fire from starting and spreading.
Smoke Alarms
Smoke alarms are essential in every home because they warn you in case of a fire in your home. There should be smoke alarms in every room of your house except for bathrooms, as well as some in the living area and on landings. In addition to changing the battery every 6 months, you should also test to see if they're working at least once a month and replace them every 10 years.
Fireproof Mesh
Metal wire screens can be installed to cover decks, cavities, or doors to prevent embers from reaching wood. Fireproof mesh can be installed to protect your home from wildfires and brush fires.
Fire Extinguishers
All homes should have a fire extinguisher in case of emergencies. A fire extinguisher can put out fires before they have a chance to spread and having one present can mean the difference between a small incident and a large fire costing thousands of dollars in fire damage and property repair. A traditional home fire extinguisher should have an ABC rating and be easily accessible at all times.
Fire-Resistant Landscaping
If you live in an area that's prone to wildfires, investing in fire-resistant landscaping can prevent the fire from reaching your property altogether. This includes using materials like stone, gravel, and concrete when landscaping and removing all dry vegetation from around your home, especially during the hot, summer months. This also includes keeping grass trimmed to a height of four inches.
Other ideas include fire-resistant plants like honeysuckle and lavender and spreading them out so that fires can be slowed down. Driveways, pathways, and walkways can be used to create fuel breaks and trees kept apart to prevent fires from jumping.
Anti-Arson Mailbox
More than 49,500 structure files between 2010 and 2014 were intentional fires. Arson can cause property damage, injuries, and even loss of life. A mailbox is one of the easiest ways to target a house since it provides direct and easy access to someone's property. To prevent intentional fires, you can install anti-arson mailboxes that have in-built extinguishing systems.
Wet Down Wooden Structures
If you have wooden structures such as decks or porches, it's important to wet them down since this prevents fires from spreading. You should also spray down doorways and window frames to keep safe from wildfires. The shingles on your roof can also catch fire from flying sparks and embers, especially when it's windy. In this case, you can wet down your roof as well.
Gutter Guards
Gutters need to be cleaned out regularly to limit built-up debris since these can act as fuel in case of a fire. Leaves, twigs, and other foliage can collect in your gutters and prove to be a fire risk. Gutter guards can be fitted over your gutters to prevent this build-up.
Lawn Maintenance
Lawn maintenance isn't restricted to trimming your yard. It is also important to remove dry grass, loose branches, dead foliage, and leaf litter from around your house. These materials may seem benign but can act as fuel if a fire breaks out.
Flammable materials like needles, mulch, and firewood should also be removed or stored far away from the home's exterior. This is especially important in areas like San Jose since California is so prone to wildfires.
Fire Retardant Materials
Some materials are more fire-proof than others. Choose fire retardant materials when you can to protect against a serious incident. In addition to fire retardant paint, you can also use concrete, stone, and tiles for decking instead of wood. Concrete, tile, and metal are good choices for roofing while stucco, brick, and concrete panels are great materials for exterior walls. Installing dual-pane windows can also be helpful since intense heat can shatter traditional windows.
911 Restoration of San Jose Can Help Mitigate Fire Damage
Since California is so prone to wildfires, it's especially important to take preventive measures and fireproof your property. When disaster strikes, the difference between a home in need of restoration and one that is completely destroyed may come down to these measures.
If you're in San Jose and your home has faced fire damage, call 911 Restoration. Our fire damage restoration experts offer free inspections to property owners and can tell you exactly what is needed to get your property back to its usual condition. Whether it's fire damage or water damage from putting out the fire, our IICRC-certified team can help.
Emergencies require a quick response, and we understand that. That's why we're available 24/7 and can reach your property within 45 minutes of your call. Call us at (408) 449-4904 or contact us here.