Water Damage Sunnyvale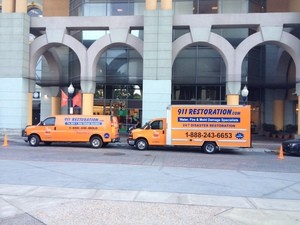 The water damage Sunnyvale specialists at 911 Restoration San Jose know better than anyone about how get your home clean and dry after a water-related disaster.
We have over 35 years of experience restoring homes, and our Sunnyvale water disaster restoration crews are the best in the business.
We use the most advanced water extracting and drying machinery, which lets us thoroughly restore your home in the most minimal amount of time possible.
911 Restoration San Jose branch owner Eriz and his flood removal team truly understand that time plays a crucial role in water damage repair, so he makes sure the Sunnyvale water damage agents execute fast and efficient water damage restoration on every single job.
Our Sunnyvale water removal specialists always implement same day services, because we know that the longer water sits, the faster mold and rot can occur.
This is why we keep our offices open 24/7/365, where representatives are constantly standing by to take your call.
Our IICRC certified Sunnyvale staff will dispatch water extracting service agents to the damage site as soon as they get all the necessary information from the homeowner.
You can then expect our techs to get to your home within 45 minutes of your emergency phone call.
Eriz is confident that the Sunnyvale flood mitigation specialists can repair all causes of water damage, such as:
Rain leaks

Sewage backups

Fire sprinkler malfunction

Water heater floods

Washer burst

Ruptured hoses

Kitchen and bathroom flooding

Shower pans

Ice machine leaks

Burst pipes
Fixing Pipe Burst Are Our Specialty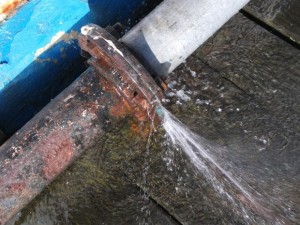 If you have a home with bad plumbing then you can expect to experience major water damage issues in your home. The most common reasons for a pipe burst is when there is too much pressure in the piping or that a clog has occured in the main water line.
When an incident like this happens, it can cause an insignificant leak that doesn't really affect the home, or it can create a huge flood that does a lot of damage.
Despite the severity of the burst, water is water, and when moisture seeps into your walls, flooring, ceiling or furniture, it can lead to a mold infestation.
If you do find yourself dealing with a flood in your home, then call our Sunnyvale floodwater damage technicians, so they can guide you through the home restoration process from start to finish.
Our Sunnyvale water disaster experts will conduct a free water damage estimate so you immediately know the scope of the damage. Once this is complete, our crews will begin water damage remediation services that very day.
Do Not Fear, the Sunnyvale Water Damage Experts Are Here
Eriz makes sure that all of the Sunnyvale service agents consistently quote affordable prices to all of their customers.
All of our home estimates are free, as well as the free visual inspections that we conduct after removing water from the home.
We never want something like finances to keep customers from calling us for help. Everything we can do to ease this burden we will, even if it includes handling all aspects of the insurance process to keep your out-of-pocket expenses low.
We will work with all major insurance companies, submitting all paperwork, communicating with reps and consistently following up on the status of the claim.
If you find that your home has been affected by even the slightest amount of water damage, call the Sunnyvale flood remediation agents right away. We will do everything we can to restore your home and give you the fresh start you and your family deserve.